Spring is in the air and the Forest Spokane Initiative is looking to give away 2,000 trees this year to Spokane residents! The Residential Tree Program aims to plant trees to help reduce stormwater runoff.
There are two free tree giveaway events in 2015 as part of the Residential Tree Program. The first event will be held this spring on April 17th and 18th. The second event will be held near the end of October (exact dates to be determined). One thousand trees will be offered at each.
Trees available on the day of the events are first come, first serve as long as supplies last. Residents living within the city of Spokane are eligible to receive up to two (2) free trees each. A variety of tree species are available between the sizes of four to seven gallons.
The City's Office of Neighborhood Services is working with three local nurseries that will have the tree stock available on the day of the event.
Blue Moon Nursery: 1732 S. Inland Empire Way Spokane, WA 99224
Spokane Conservation District: 210 N. Havana St. Spokane, WA 99202
Home Fires Nursery: 2919 S. Geiger Blvd. Spokane, WA 99224
View the FREE TREE species list (PDF 3.4 MB) to see species offered by location.
If you would like to choose your free tree(s) species prior to the event, contact your local neighborhood council to receive a free tree voucher and pre-select the tree species before the event. To find out which neighborhood you live in, visit the neighborhood's page.
As part of the Residential Tree Program, Greenleaf Landscaping & Nursery is offering a special deal for Spokane residents. Greenleaf has reserved 300 deciduous and coniferous tree species for residents to purchase at $95 per tree, Spokane residents are eligible for up to 2 trees. With your purchase Greenleaf will deliver and install your new tree(s) directly on to your property at a time convenient for you. View the Greenleaf Tree flyer (PDF 1.2 MB) to view a list of trees offered.
Forest Spokane
The Residential Tree Program is part of the Forest Spokane Initiative. The goal of forest spokane is to plant 10,000 trees in the city as a way to mitigate stormwater from entering into our stormwater system and the spokane river.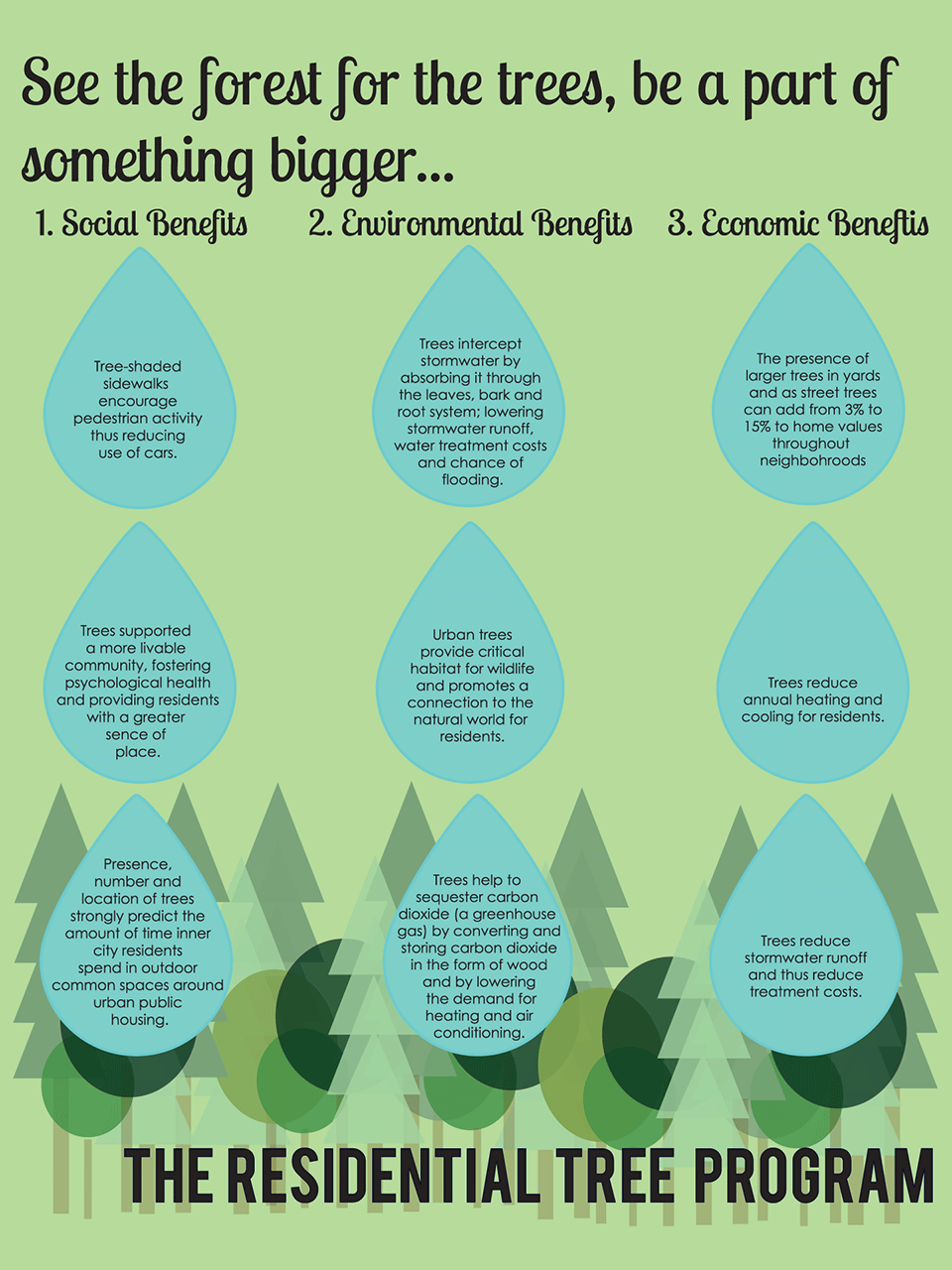 See the forest for the trees, be a part of something bigger! Help the Initiative reach its goals of mitigating stormwater by planting your FREE TREE in the right place. In order for your tree to help mitigate stormwater the leaves and branches need to overhang at maturity over a sidewalk, street, driveway or walkway. But you also want to plant your tree in the correct location by taking into account the tree maturity size when selecting the proper location. Each of the participating nurseries can help you in choosing the correct tree species for your home or visit the Forest Spokane Initiative to learn more about choosing the right tree.
Event Sponsors